The Benefits of Testosterone
Testosterone is an androgen (a hormone produced primarily by men), and is responsible for the development of deeper voices, more hair, and being physically larger than women. Although both males and females produce testosterone, its effects are more pronounced in men because males produce about ten times more than females. Males start producing it as early as in the womb and continue producing more as they mature into adulthood.
Some major functions of testosterone:
- Increases muscle mass
- Faster muscle recovery time
- Enhances virility
- Increases libido
- Promotes overall health and well-being
High-Quality Ingredients
Here at Boli Nutrition, we use all-natural herbal ingredients in our Testoboost supplement--you won't find anything synthetic.
Here is a list of the ingredients in Testoboost:
Tribulus Terrestris: an herb that has been used in China and India for thousands of years. It is used by many bodybuilders today to build muscle mass. It is believed to enhance the body's natural testosterone production by stimulating the pituitary gland.
Milk Thistle: Dating as far back as the Roman Empire, it has been grown and used in the Mediterranean Region including Southern Europe, Northern Africa, and parts of the Middle East. It is believed to help the liver which serves as a filter for the body. With enhanced liver function, the body filters out certain hormones that decrease testosterone production. The end result is that Testoboost can be more effective.
Fenugreek Seed Extract: a plant native to North Africa and India, it contains an enzyme that modifies the cholesterol used in testosterone production. It has been shown to increase the amount of weight one can lift during a workout, reduce of excess body fat, and increase libido.
Horney Goat Weed: an herb discovered by an ancient Chinese goat herder and is only grown at high altitudes. It is most commonly used an aphrodisiac, significantly increasing libido in both males and females. It also increases nitric oxide levels in the body stimulating the organs that produce testosterone. Furthermore, it has been associated with increasing muscle mass and quicker muscle recovery time.
Four Reasons Why You Should Take Testoboost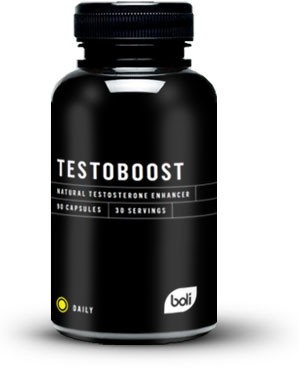 If you want to acheive your best physique then Testoboost is a key supplement you'll want to include into your program. Here are some reasons why anyone serious about making BIG changes to their physique can benefit from Testoboost:
- You will see an increase in muscle mass
- Your muscles will recover much quicker
- Your body compositon will improve by losing excess fat
- You will feel a renwed vigor for life
In order to win a free bottle of Testoboost go to our Facebook post. The two ways to enter to win are by liking the post and by tagging friends. Every friend that you tag will earn you an extra entry. Every friend that is tagged will also be entered to win.
Order Yours Today

At Boli Nutrition, we pride ourselves in selling the highest-quality products. Testoboost is one of the most effective supplements on the market. You can order yours online today by visiting this link: http://www.bolinutrition.com/testoboost.html